SHEILDED METAL ARC WELDING
---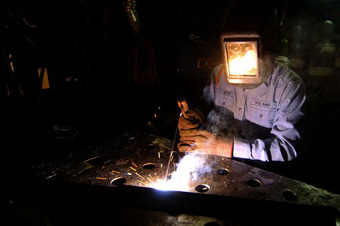 ---
---
PLEASE REMEMBER SAFETY WHEN IT COMES TO WELDING !!!
YOU WILL NEED *WELDING HELMET #10-#14 OR AUTODARKENING HELMET. *LEATHER,WOOL,OR COTTON LONG PANTS,LEATHER JACKET *HEAVY DUTY WELDING GLOVES *SAFETY GLASSES *LEATHER BOOTS OR SHOES AND BE IN A WELL VENTALATED AREA.
---
---
SMAW KNOWLEDGE
Shielded Metal Arc Welding (SMAW) also known as Stick or Arc welding. The process involves the heating of the base metal to fusion or welding temperature by an electric arc that is created between a covered metal electrode and the base metal. The coating or covering on the electrode provides bothboth flux and shielding gas for the weld.The electrodes (welding rods)come in (" to 15" straight lengths in a range of wire thickness from 1/16" to 3/8" ,hence the name "stick". Smaw is used extensively for fabrication,construction and repair work because the machinery is inexpensive and fairly simple,and the electrodes are inexpensive. There are drawbacks to SMAW: It doesn't work on thin materials ("less than 1/8") is difficult, electrodes need to be changed frequently as they are used up,and the protective slag coating must be chipped off each weld.
---
---
Safety
Shielded metal arc welding uses electricity, so there is always a possiibility of receiving an electric shock or being electrocuted. When an electrode(stick)is placed into the electrode holder, it is "live." If the electrode touches anything that the work clamp is in contact with, the cicuit will be completed and an arc will be struck. To prevent this from happening, always remove the electrode from the holder when you are not actively welding. Do not use your bare hands to insert or remove electrodes- always touch electrodes with a dry glove free of holes. Remember that water and electricity never mix well, so do not weld while standing on a wet or damp floor or ground, and don't weld outdoors in the rain. The electrode will be hot after use,so take care where you dispose of electrode stubs. A metal bucket is a good addition to your SMAW workshop.
---
---
SMAW welding procedures have infared and ultraviolet rays and harmful fumes,and very hot spatter. Protect your eyes with a # 10 or #14 shade with a full-face welding helmet or hood. Heavy-duty welding gloves and a welding jacket with leather sleeves are necessary to protect you from molten spatter. Proper venalation from an exaust hood or fan is important since many of the chemicals used in the electrode coatings are hazardous if inhaled. Also,it is a good idea to screen off your welding area so other people are protected who are around from the intense light of the arc.
---