GRINDING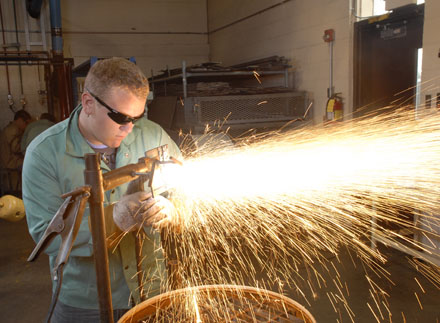 Grinder tools are important items in welding and mechanics and are used for many functions. It may be used to polish the surface of different materials like metal and wood. It may also be used for grinding, and even for cutting. At times, grinder tools may also be used to sharpen objects.
Although most of the grinder tools are hand held, there are also those which are larger and may stand by themselves, like a bench grinder which is normally placed on bench tops, and operated with the use of a pedestal, and a belt grinder, which is specially designed for polishing metal surfaces.
In using grinder tools, there are things that you should always consider and put into mind all the time. Here are some reminders that you may find useful.
First, determine the material you will be using for your project and what you want to do with it. As have been said, grinder tools have different functions. Depending on the material you will be using, and what you are planning to do with it, you may select the appropriate tool. If you plan on merely polishing the surface of your material as a finishing process, you may opt for the surface grinder. If you want to sharpen and shape metals into good shapes, you may try going for bench grinders. If you want to have a hand held type of grinder, you may try die grinders.
Second, make sure that you wear safety gadgets. Grinder tools may be damaging if handled improperly, so it is important that you are well cautioned. Wear thick leather clothing to protect your body and a full face shield to protect your face from debris that might be thrown off from the project you are working on. You may also try using hand gloves to shield your hand
As what was mentioned, these tools are essential items, but may also be dangerous. Because of this, it is necessary that you must learn the proper procedures in manipulating these machines. Try to learn the manual with all your heart, and try doing simple practices first before attempting to do a big project, to avoid unnecessary expenses due to premature results. Remember, do all these with extreme caution.
Finally, remember to clean up properly to avoid unnecessary inconvenience for next use. At the end of every project, make sure to always clean your gadgets properly and accordingly as instructed in the manual. Avoid doing experimental methods of cleaning or you might end up destroying it. Clean them and tuck them away properly, so that they will be ready for use for the next project.
These are only simple reminders that you must put into mind. They may be simple but they bear big importance to every operator. Do not take these for granted, and seriously consider them, to avoid inconvenience and danger that you may end up getting.
Grinder tools are toys for professionals alone. So make sure that you know what you are doing, and you are well prepared for all that might happen.
Please visit my site for more helpful guides on grinder tools
Article Source: https://EzineArticles.com/?expert=Chris_Adam_Roberts